Helpful Information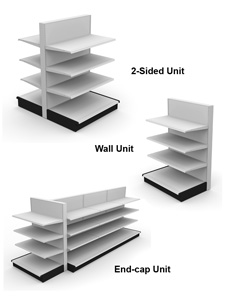 Gondola Style
Select the style of Gondola Shelving that you will need?
Two-Sided Unit
Wall Unit
End Cap Unit
The best used gondola shelving for your store
In need of durable retail shelving at a price that won't break the bank? Used Gondola Shelving USA offers an impressive selection of functional, versatile shelving options suitable for most any retail setting. Our huge assortment of shapes, sizes and styles – from two-sided aisle units to end caps – will allow you to enhance your store's design, display merchandise in an appealing fashion and, in the end, boost your sales volume.
Durable Gondola Shelving for Any Retail Business
Whether you're opening a new store, expanding your existing business, or just looking to revamp and rearrange, Used Gondola Shelving USA's versatile, easy-to-install shelving can make the process a snap. We stock the premier shelving brand "Lozier" in our warehouses across the county.
Gondola shelving is particularly useful for such retail businesses as:

Grocery & Supermarkets

Beauty Supply Stores

Home Improvement Stores

Pharmacies & Drug Stores

Convenience Stores

Liquor, Wine and Beer Stores

Gun and Ammunition Shops

Auto Parts Stores

Cigar Stores, Smoke Shops and Vape Shops

Pawn Shops

Feed and Farm Supply Shops

Discount Stores
High Standards for Your Store Shelving Solutions
We are fully committed to offering customers quality, strong store fixtures at reasonable prices. Our metal store shelves are available in two-sided aisle units, single-sided wall units and endcaps to meet all your retail display needs. Our Retail Ready used equipment is cleaned thoroughly of all stickers and tags, ready to install and stock your items without loss of time, while our As Is product offers our lowest price point.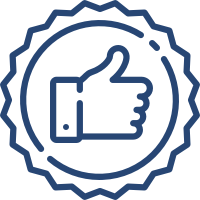 Experience Top Quality
Our Inspection Process & Dedication to Quality
We closely inspect all of the shelving that comes into our inventory and rate its condition on a scale of 1-10, ruling out everything below a rating of 6 and recycling it (unless product below that level is specifically requested), so you can be sure that items you purchase from us will stand the test of time.
Areas We Serve
Used Gondola Shelving USA works with clients across the country with company-owned distribution warehouses in Georgia, Ohio and Texas. We proudly serve retail stores in Ohio, including Columbus, Lancaster, Cleveland, Mansfield, Upper Arlington, Westerville, Delaware and Galloway, Ohio, as well as Pittsburgh, Pennsylvania and Florence, Kentucky.
Improve Your Sales Floor Today!